CRI has researched the future of voice search and how it relates to the ongoing SEO strategy for our clients. Mobile search has overtaken desktop searches and companies need to tailor their SEO practices towards this growing trend, which now includes voice search.
US Local Search Market:  Mobile vs. Desktop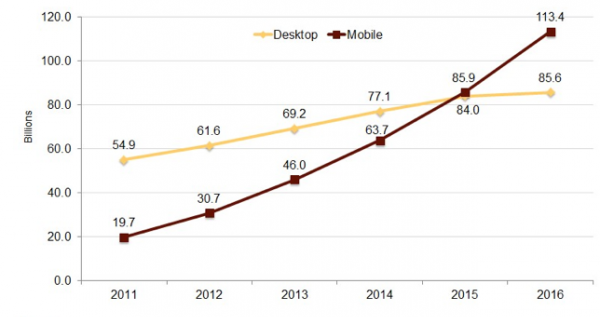 What is Voice Search?
The popularity of voice search is growing as more searches are conducted on mobile devices. Voice searches are conducted when a user talks to their device to obtain information that would have normally been searched by typing in a query. The Google Search App for iOS and Android gives you the ability to ask a question out loud and the search app will speak your answer right back to you. Users are not given a list of SERPs and instead are receiving one piece of information at a time. This information is populated from optimizations made to the content of the pages and Knowledge Graph information. Voice search is available on desktops as well; the little microphone in the search bar gives users the ability to speak their search query.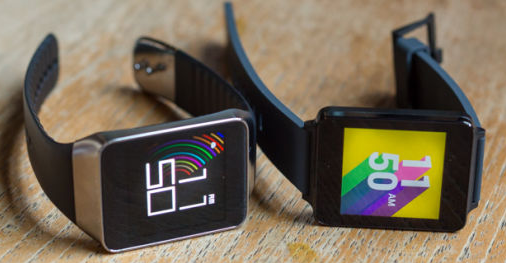 The growing popularity of smart watches has increased the use of voice search in 2015 and that trend will continue in 2016. Smart watches provide one answer to search queries and optimizing your content towards those search queries is important.
How Does Voice Search Benefit Clients?
Studies have shown that mobile queries have strong local intent (between 40%-80%); using these stats, we can assume mobile and wearable devices are going to provide a plethora of local search results. More so, this is the kind of intent we want to make sure we're properly optimized for, as on average, a mobile query results in two follow up actions by the user. Those follow up actions could consist of asking for more information or asking for directions.
Having optimized content that focuses on conversational keywords will help clients show up as the number one option when their keyword phrases are voice searched. By keeping ahead of the curve, and by anticipating the advances in voice recognition and natural language search criteria, businesses have a better shot at improving, and maintaining, their online visibility in the future.
Building out Google's Knowledge Graph
The use of Google's Knowledge Graph is an integral part of the process that gives users smarter answers.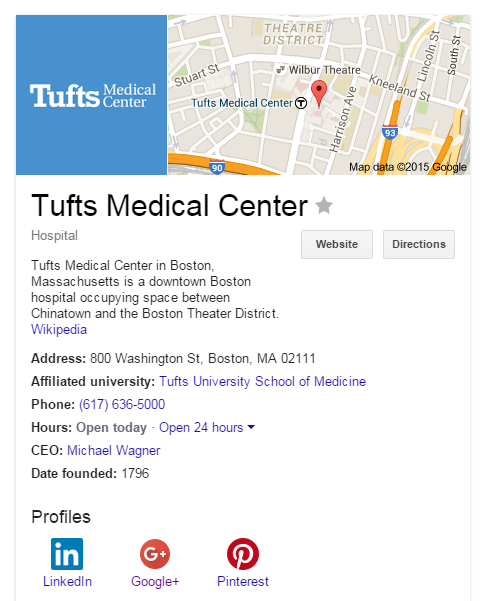 Building out the content on the website and utilizing robust Google My Business pages is an important part of populating the Knowledge Graph with usable information. A new method for doing this is JSON-LD, which uses Google Tag Manager and JavaScript to tell Google what the most important accurate information is. By using this code, we can build relationships between the site and crucial content so that Google can place more emphasis on that information being pulled into the Knowledge Graph. The Knowledge Graph then provides accurate information to all the voice search queries.
CRI works with clients to implement conversational phrases into the FAQ page and other important pages that mimic what a user might ask on their mobile device. Using these long tail keywords will capture more of the traffic using mobile and wearable devices with voice search activated. The use of these phrases can be fine-tuned so they work with existing content.
In Conclusion
Writing content the way your audience speaks is one of the best ways to engage with people that search for your page and it keeps them coming back. In the past, targeting specific keywords was enough to boost your rankings with search engines. Users are now searching in more broad terms that include sentences. "Where is Acme Motors located" and "What time does Acme Motors close" are a couple of examples of queries that might be searched by voice. People search for things the way they speak and ask questions, so it is important to build out pages with all the relevant information needed to achieve a positive result when one of these questions is asked.
Wearable device searches are going to gain more popularity since users will be doing more voice searches. Websites that answer questions and use common phrasing are going to outrank those that are just stuffed with keywords in their content. Optimizing a website for voice searches takes this semantic thinking to a new level. A voice search is done in a more conversational, natural way, so a website must be optimized accordingly. By shifting the SEO focus to include this portion of the search traffic, we can position our clients for success in local and voice search.