Earlier this year, Google started including brands' social profiles within its Knowledge Graph panel. In the past, this feature only applied to famous people, such as actors, musicians and politicians. What does this mean for brands that Google will now pick up their social handles?
It comes down to two things:
• If your brand is already active in the social space and has a great presence, it will have even a better visibility in search results.
• If you haven't had the time to build out your brands' social profiles, this is yet another reason why you absolutely should. ASAP.
More importantly, Google now allows companies to add markup language to their sites to specify their official social profiles for search engine crawlers. Let's take a look at why this update matters for search and how your plan of attack should look like to leverage it to your best advantage.
Here is a screen shot of the Best Buy Knowledge Graph: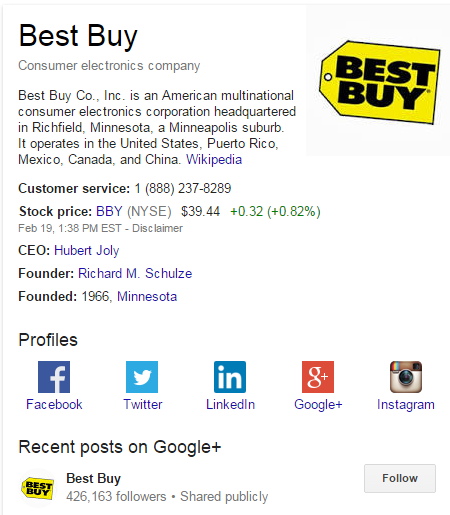 Just as in the past, you see a snapshot from the brand's Wikipedia page (as many of us know, this is how most Knowledge Graphs are generated). Right below it, Best Buy's social handles are displayed. By the way, Google currently picks up profiles from the top social networks (interestingly, MySpace is on the list):
• Facebook
• Twitter
• Google+
• Instagram
• YouTube
• LinkedIn
• Myspace
I do anticipate this list expanding. So, if Pinterest and Tumblr are an integral part of your marketing campaign, this is not by any means the reason to drop them and bring your brand back to the antique MySpace.  Just like anything, take this update with a grain of salt and really think what the best strategy is for your brand.
However, even if you're a small B2B business, this is a no-brainer to build out your profiles on top networks (at the very least, on Facebook, Twitter, Google+ and LinkedIn), just so you can own that Web real estate for the branded queries.
Now, Google+ is just as important as ever to your search campaigns. Below the social profiles' links, Google Knowledge Graph displays your latest Google+ posts, followed by your competitors' information. If you maintain solid presence in social channels and regularly update your brand's Google+ page, you'd be able to push competitors' mentions down the bottom of the Knowledge Graph panel and really dominate that digital real estate.
For example, in the following search results below, two competitive beauty brands, Kiehl's and L'Occitane, both have solid Knowledge Graphs. However, due to the fact that more L'Occitane's social profiles are picked up, in addition to the company's Google+ updates, you have to scroll down the search engine result page to see competitive logos. In the Kiehl's example, competitors' presence is way more prominent: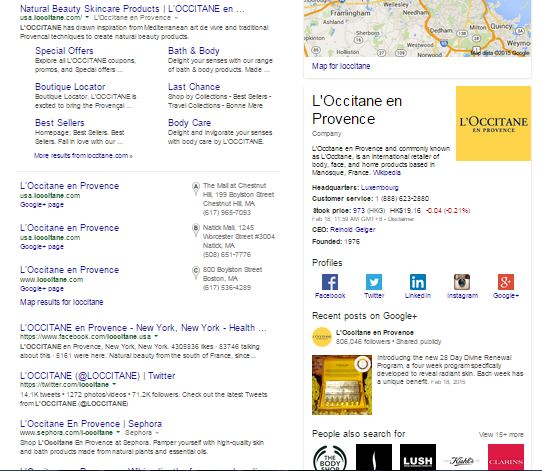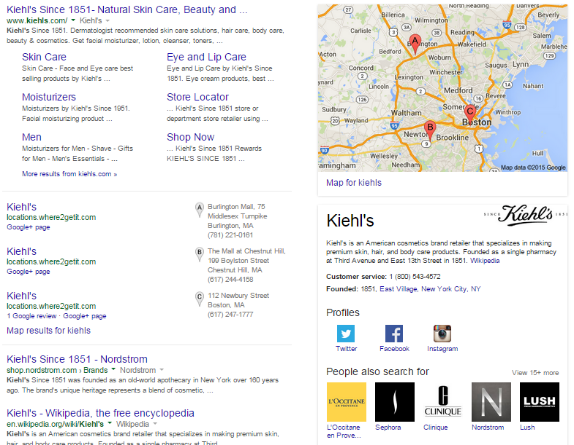 So, if you are serious about your brand's digital marketing, I highly recommend that you add the following to your to do list:
• Invest effort in building out your brand's presence in top social networks.
• Maintain active Google+ page.
• Implement Google-recommended structured data markup on your site to distinguish your brand's official social profiles. Conveniently, Google outlines a detailed guide on how to implement this markup in its Developer's Guide here: https://developers.google.com/structured-data/customize/social-profiles
I hope I convinced you to think about social marketing. Stay tuned on more updates on how to integrate search and social to really benefit your overall marketing efforts!