"Alexa, order floor mats for my Honda Pilot."
"OK Google, find me a place for tacos right now."
"Hey Siri, when is World Immunization Week?"
Voice search is more and more a part of our everyday lives. As the technology becomes more commonplace, and as developers expand the number and types of actions you can complete using just your voice, the opportunities for businesses grow and change on a seemingly daily basis.
We've written about optimizing for voice search before; here is what we have learned since in preparing our clients for a mobile, screen-less future in search.
Who Uses Voice Search?
Why Voice Search?
It is possible to predict why a user might choose to search via voice based on readily available information such as device and location.
Mobile Voice Search is Local SEO
Voice searches originating on a mobile device tend to be location-dependent—that is, users typically search for strings such as, "[service] near me", or "nearby [product]".
The optimal strategy for capturing traffic from these voice searches has not changed much since its debut. We know that Google voice search, for instance, relies on structured data of the sort that drives the appearance of featured snippets but which explicitly includes location and other relevant information, such as hours. A thorough local SEO strategy should be sufficient to ensure that your site is positioned to capture such traffic. If you're not sure if your business or website is already capitalizing on local SEO opportunities, reach out to us!
Smart-home Voice Search is an Ecommerce Opportunity
According to data published via Statista, the general retail ecommerce sector in the US economy is estimated to have totaled over $409 billion in sales in 2017, and is forecast to surpass $638 billion by 2022. Voicebot.ai, meanwhile, pegs the US retail ecommerce voice search market currently as a $1.8 billion segment—a figure expected to rise to $40 billion within the next five years.
Voice search may comprise only a small portion of the retail ecommerce sector at the moment—0.44%, according to the above estimates—but that segment is growing faster than the overall ecommerce sector. Based on the above figures, by 2022, voice search will be component in 6.27% of all ecommerce transactions. The pie is growing, and this slice is growing even faster!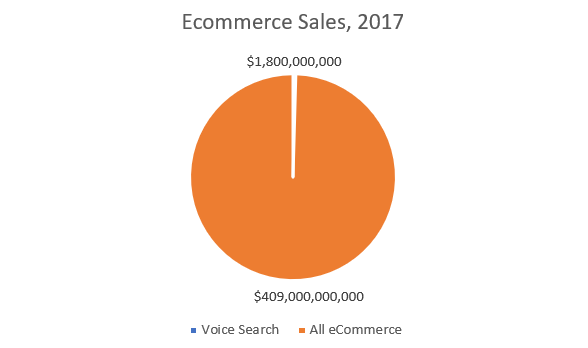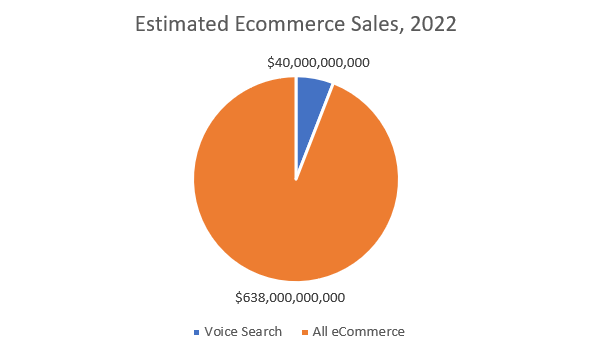 The retail ecommerce pie is growing, and the voice search slice is growing even faster!
The largest share of voice search ecommerce transactions are initiated via a smart-home device. According to GeoMarketing, 82% of Amazon Echo/Dot owners subscribe to Amazon Prime. That fact facilitates roughly two-thirds of purchases, all of which can be categorized as staples—groceries, entertainment, electronics, and clothing.
This represents both an opportunity and an obstacle. Customers are comfortable purchasing staples sight unseen. "Alexa, order Bounty paper towels" is a lot different from "Alexa, order floor mats for my new car." Shoppers want to discover new products visually; voice search—absent broader integration into a smart home—may not be the right method for that, or one that we would expect users to adopt.
If we are to prepare for a future where shoppers expect to discover and shop for new or novel products via voice search, we likely do not need to significantly alter our strategies. A recent Search Engine Land article laid out what might be over and above what we consider SEO best practices—a list that starts and ends, for most ecommerce retailers, with the suggestion to optimize content for conversational keywords.
Ecommerce and Long-tail Keywords
Conversational keywords can be understood as phrases and complete sentences. Consider the example above—"OK Google, order floor mats for my Honda Pilot." We would expect a search engine to parse this as "floor mats" + "Honda Pilot", with search intent clearly aligned around purchasing as opposed to information or research. We would expect a traditional search engine results page to be populated with product pages; we also would expect to see a Google Shopping grid on the right-hand rail. And, what do you know: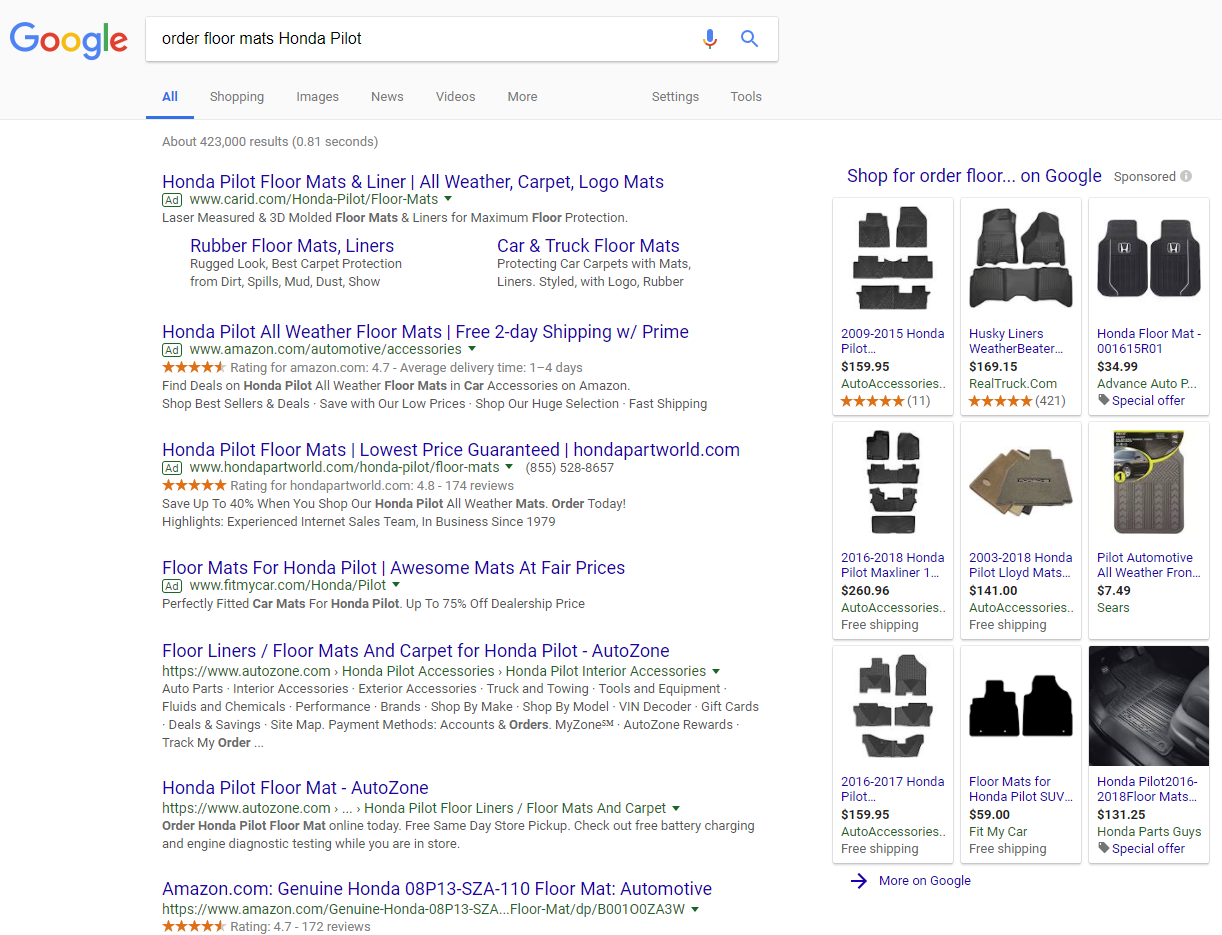 An example of a Google SERP for a long-tail, purchase-motivated search query
Our clients' sites have gained qualified, purchase-ready traffic with holistic content strategies. By aligning the informational blog posts or evergreen articles with custom product descriptions, we have been able both to improve the average position for target keywords and to increase the total number of keywords for which the page ranks (and, over time, ranks well).

A holistic SEO content strategy maximizes content production beyond the initial article
Many sites assume that blog posts and evergreen articles are the extent of their content production. We have found that nothing could be farther from the truth—in fact, the initial blog post really is the point of origin. Like a radio signal, it spreads across your site via the pages to which it links, and in turn the pages to which they link.
By selecting, for instance, to link to a product with several related products displayed beneath, rather than linking to a dead-end product page, we accomplish a primary eCommerce SEO goal, linking to multiple product pages within three clicks of the homepage.
By writing expanded descriptions on those product pages, we are able to more fully educate search engines as to what products we sell, who might be interested in them, and for what they might be used. In a nutshell, this is semantic SEO.
This type of content is fantastic if you are adhering to Google's stated mandate—that you design your site to satisfy the user's intent. Through the lens of voice-search optimization, however, there has to be another side to the coin.
Structured Data
The virtual assistants powering voice search—Alexa, Siri, The Google Assistant; pick your poison—are designed to interpret natural speech. It is possible that, over time, they will be able to crawl, read, and understand normal content with the same level of comprehension as a typical internet user. In the interim, however, we can look at what we know about where virtual assistants find the information they repeat back in response to a voice search.
A recent Backlinko study considered 10,000 Google Home search results. The study includes plenty of valuable insight; here are our 3 key takeaways:
41% of voice search answers came from a featured snippet
The average answer came from a page with a word count well over 2,000
Very few results had the exact query in their title tag
Each of the above supports the advice we have given our clients on this topic. Featured snippets are important, and there are steps you can take to encourage Google to display information from your site in the knowledge panel, but Google themselves have shown a clear preference for high domain authority sites in this regard, in particular. The best you can do is prepare and develop your site in such a way that it is possible for Google to build a snippet, should they decide doing so is the best way to address a user's query.
Of course, a featured snippet is not the only use for structured data on your site. And here, we see some of the greatest potential for growth across the voice search ecommerce landscape. Amazon, Apple, and Google all may want to develop their virtual assistants to the point where they easily can parse relevant text out of long-form content—but, in the interim, and if the goal is to answer a user's ecommerce-related voice search, we can expect them to use the most accurate information available that their respective spiders can readily digest. And that, for now and the foreseeable future, is structured data.
Articles can be associated with the Question schema. There is a product schema, and there is no shortage of additional structured data types, objects, and properties that can be built out for most pages—images, alternative names, prices, dimensions, many of which also have particular machine-readable formats that improve search engines' understanding of your site.
Optimizing for voice search is little different from optimizing for organic search. One key to success is understanding how voice search engines consume and synthesize information—and how you can use that knowledge to your advantage. Long-form content that thoroughly addresses a search topic paired with structured data highlighting certain questions-and-answers, and extends across the network of interconnected product pages, has proven to be effective for us in achieving growth for our clients.