---
How to RSA… Wait, What!?
---
Over the past few months you may have heard some chatter about RSAs, also known as Responsive Search Ads. RSAs leverage Google's machine learning algorithm, allowing marketers to easily test ad copy messaging.
How Do RSAs make Ad Copy Testing Easier?
The new responsive search ads format will ultimately give you the opportunity to create more ads per ad group, easily and at scale. Doesn't that sound great? I think so; below are some key benefits of this new ad format:
Efficiency: Now you can save time by creating one ad with multiple headlines and descriptions. Responsive Search Ads can display up to 3 headlines and 2 descriptions at the same time but we can test up to 15 headlines (30-character limit) and 4 descriptions (90-character limit) in one ad. Over time, Google Ads will test for the most effective combinations and learn the combinations that are most relevant for different queries.
Flexibility: RSAs adapt to different device widths. This gives you more room to share your message with potential customers. Remember, Google will build and serve the ad combination based on what it has learned to be the most relevant message to that individual customer and their specific search.
Control: Machine learning is a major factor but you are still in control! Although Google will pick the ad copy and the precise combination to serve, you still provide the content. Be creative but choose your messaging wisely. And remember—if you need more control, you can pin your headline(s) or description(s) to a specific position.
Performance: Google has estimated that ad groups with RSAs have a click uplift of 5-15%. RSA essentially enables you to compete in more auctions and match to more queries, which allows you to reach more potential customers.
Creating Your First Responsive Search Ad
If you're anything like us, now that you know a little bit more about RSA, you're eager to give it a test run. One thing to keep in mind: RSA is still in beta as a product, and not all advertisers have access to it. Before getting started make sure you can access the RSA option under the Ads section in your Google Ads interface, or contact your Google representative to request to be whitelisted.
Once you've verified that you have access to the feature, follow these simple steps to implement your first RSA ad copy.
Create your content directly in the Google Ads interface, editor or upload in bulk if you are implementing more than one ad at a time. Your content—headlines and descriptions—should be unique, include 1 keyword, and highlight different aspects of your business. Remember—the more headlines and descriptions you provide, the more potential combinations your ad will have, leaving you with more possibilities and deeper insights.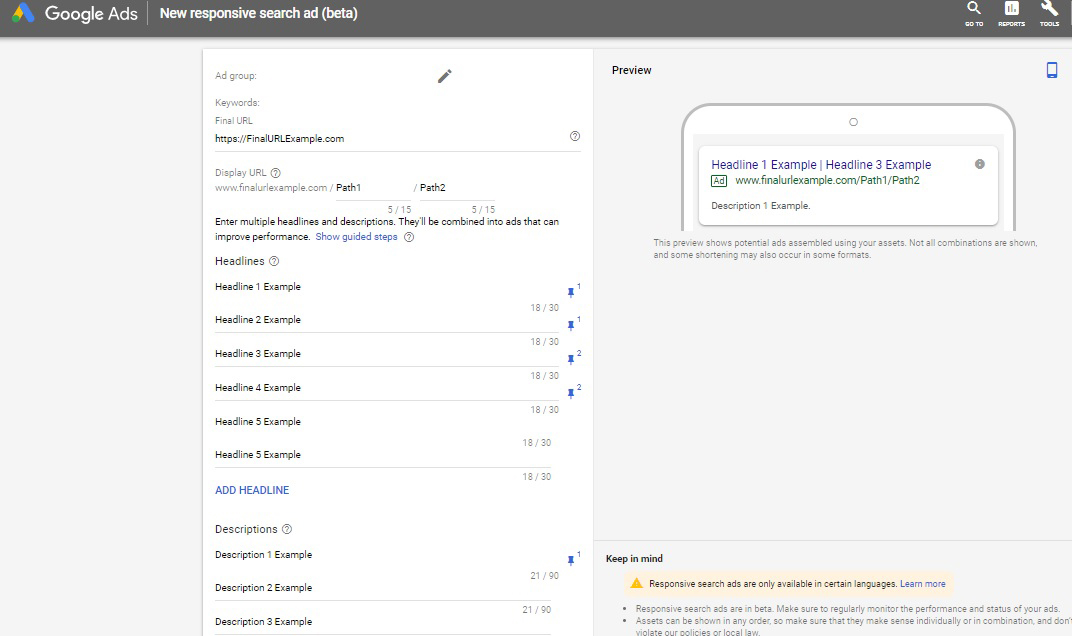 "Pin" a headline or description. Although not necessary, RSAs allow you to pin a headline to 3 positions (position 1-3) and descriptions to 2 positions (position 1-2), which is effective if you have text that must appear in every ad. For instance, if you want to test different calls to action, you can pin all CTAs to headline position 1 or 2. By setting your CTAs to be tested as headlines 1-5, with headlines 6-10 dedicated to unique messaging (like the name of your service or business, promotions, etc.), you will have efficiently created a quick multivariate CTA test.
Test longer and shorter variants of your headlines and descriptions instead of focusing on maximizing character limits. As with all ad copy, think of your business first, the message you want to convey, and the audience you need to reach, and write your ads accordingly.
Incorporating RSAs into your marketing mix might be a great opportunity for your business, but you need to make sure it's generating positive results. The work only really begins once your ads are live. From there, you will have to track and report on results.
Remember, this is a test against your existing ads. With that said, we recommend ad groups to have at least 2 expanded text ads (ETAs) and 1 RSA. Don't be afraid of comparing your RSA against your existing ETAs.
Once you have sufficient data to meet your needs, you will be able to decide if RSAs make sense for your business, paid search campaign(s) and/or individual ad group(s). Revise and create more ads as needed, and don't forget—the most effective paid search campaigns never stop testing.
Do you want to start experimenting with RSAs and other ad formats? Reach out to us today and learn how we can help you grow your business!
Sources:
Google Ads