As of Monday, Google has confirmed a huge adjustment to search results: right hand rail ads are disappearing.
Last week, on Feb. 18, a dramatic increase in SERPs (marketing lingo for Search Engine Results Pages) with four ad positions, as well as a slow but noticeable decline in right rail placement, led many PPC leaders to question if the change was finally happening. Hinted at last December, when Google began beta testing four ad SERPs alongside Shopping PLAs across a very limited number of results, this update is a game-changer for search engine marketing as a whole.
Why is Google Removing Right Rail Ads?
Google claims the new layout will help searchers find (read: click on) more relevant and engaging content. But the change suggests an effort by Google to standardize the advertising ecosystem across all devices – mobile, desktop, and tablet – by serving the same number and style of ads in the top results. While this makes room for a variety of right rail results such as Knowledge Panels and Shopping PLAs on desktop, the effects on paid advertisers will be swift and global.
Google SERP Before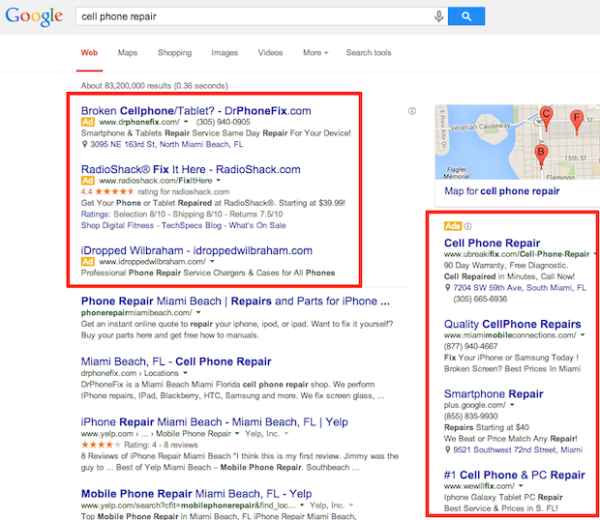 Google SERP After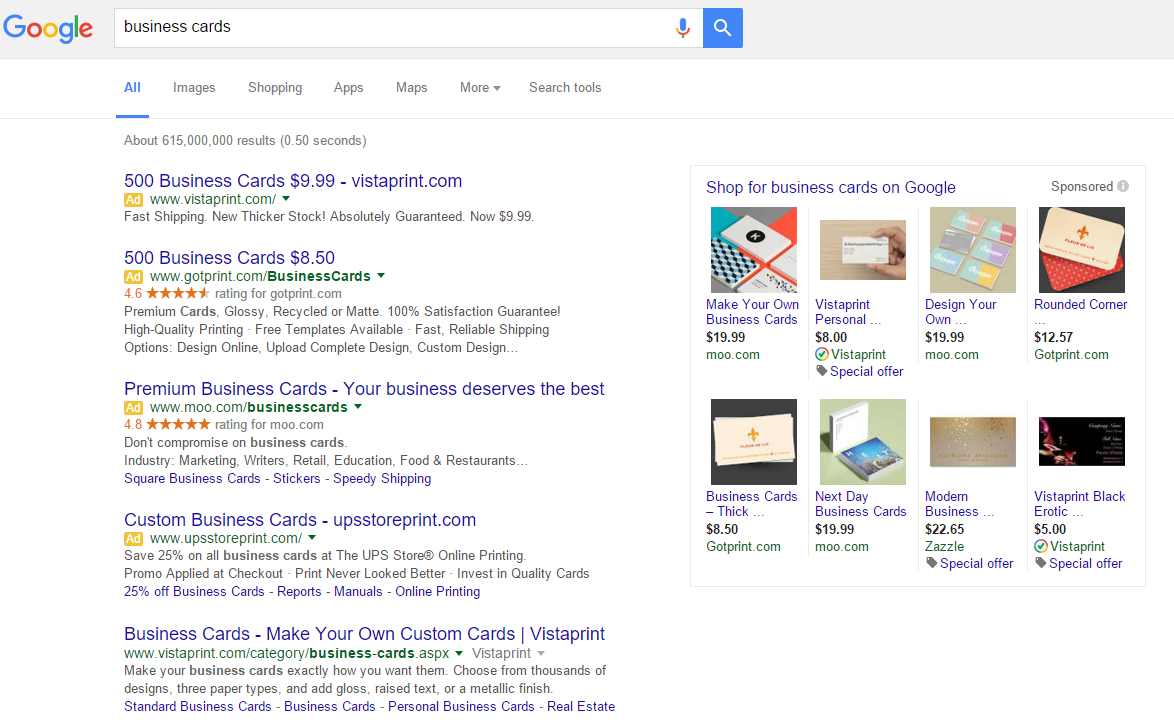 Top 3 Changes in Google's New Ad Layout
So what do the changes mean for paid search? Here are the most dramatic potential changes:
Cost-Per-Click Increases: With the number of paid advertisements decreasing, competition for those top spots just got hotter. The potential for a rise in CPCs across all SERPs is a possibility, as companies compete for an even smaller advertising space. Not to mention the effects of bidding for a top 4 spot, only to find oneself in spot no. 5, now at the very bottom of the first search result page.
Higher Competition for fewer Ad Spots: While adding a fourth spot is good, total paid listings has decreased from approximately 10 to 7.   This puts even more pressure on appearing in those top four spots.
Less Above-the-Fold Real Estate for Organic Results: An additional ad pushes all organic listings further down a page already chock full of PPC, Google My Business results and Local Packs. While overall organic strategy shouldn't see any seismic shifts, there is opportunity to adjust SEO tactics to focus on long-tail term optimizations (in addition to more competitive ad-filled SERP keywords), so that your business can continually increase traffic from all positions in the search funnel.
How does the Google Ad Layout Impact Paid Search?
It's estimated that 85 percent of clicks came from the top ads and only about 15 percent came from the side and bottom ads.  The data shows that right rail ads have a much lower likelihood of a click regardless of position, and the fight has always been for top three spots.
So now we'll have an extra spot to bid for, as well as shopping PLAs and Knowledge Graphs on desktop (when applicable). Quality Scores and efficiencies will be more important than ever, and other factors such as search relevancy and ad copy, are expected to become increasingly more influential in advertisers' ability to efficiently maintain position in the top four ad spots, while successfully driving traffic to their site.
Google is telling us loud and clear that good, relevant ads will be rewarded with coveted top positions for an affordable price. All you have to do is listen!
Interested in learning more in paid search and SEO trends? Read more from our blog, View from the Charles:
How to Launch Smarter Campaigns with Google Customer Match
Optimizing for Voice Search