The search world is buzzing with the release of Google's newest feature, symptom search. Currently available on mobile devices, this feature provides users with general information and a selection of possible conditions that fit the symptom. The intent is to make it easier for users, and help them "quickly get to the point where you can do more in-depth research on the web or talk to a health professional."
What Does This Mean for Organic Search?
Since this feature just rolled out, it is not yet known what the impact is on SEO. For healthcare provider's websites, this has the potential to be a favorable development.
Consider this: Your child wakes in the morning with stomach pains. Rather than spending time searching through sites laden with medical terminology and driving you to terrifying possibilities, you search in Google for an individual symptom such as "stomach pain" brings up a brief summary of the symptom.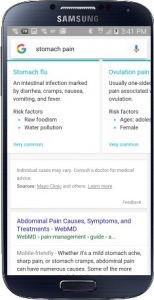 Scroll down a little further and you will find the symptom cards with possible conditions that may be causing this. As you look through the cards, you hit upon one that fits your child's complaints. Clicking upon the symptom card brings up the health conditions knowledge graph with more detailed information, followed by organic search results related to the condition.
Narrowing things down in this manner can lead a user more quickly to a physician or hospital website where treatment is offered. While this change does affect the visibility of organic search results, it provides a better user experience which has been a primary focus for Google over the past year or more. For website owners, the positive aspect is that users who follow this path to arrive at their website will be more qualified and engaged.
Filtering out individuals conducting top of funnel research (think students writing a research paper), visitors arriving at your site after completing a symptom search are more likely to request an appointment or contact you for additional information.
For individual websites, there is not much that can be done to influence the symptom search results. However, ensuring that your site ranks well through use of structured markup, relevant content, and clear user paths to make an appointment and gather additional information will help attract these qualified visitors.
Interested in learning more in SEO trends? Read more from our blog, View from the Charles:
How Does the New Google Ad Layout Impact SEO?
SEO Tactics that work for Pharmaceutical Companies
Want more information? Get more details on Charles River Interactive's SEO and PPC service offerings or contact us today.