Written by Bethany Critchley and Kathryn Falco 
Over the past couple of weeks, Facebook and Twitter have been hard at work rolling out new features for both their individual users and their advertisers. Below is an overview of some great new tools the platforms have unveiled to individual users and advertisers alike.
Facebook begins testing new Topic-Based Feeds feature
Until recently, users' feeds have been primarily composed of statuses, pictures, re-posts, promoted posts, etc. all of which were, for the most part, out of their control. Though Facebook did its best to show and suggest posts similar to ones that users "liked" or promoted themselves, it was easy to get lost in all of the information (and irrelevant relationship statuses) that were constantly being displayed. That is, until now.
Last week, Facebook started testing out a new feature – Topic-Based Feeds. Users within the test were given the ability to choose specific topics to be displayed in their newsfeeds by clicking on their particular interests within the Topics toolbar (found on the left side of the menu). The Topics, Animals & Pets, Food, Health & Fitness, and Sports, were then further refined based on users' preferences after answering questions on the topics they chose.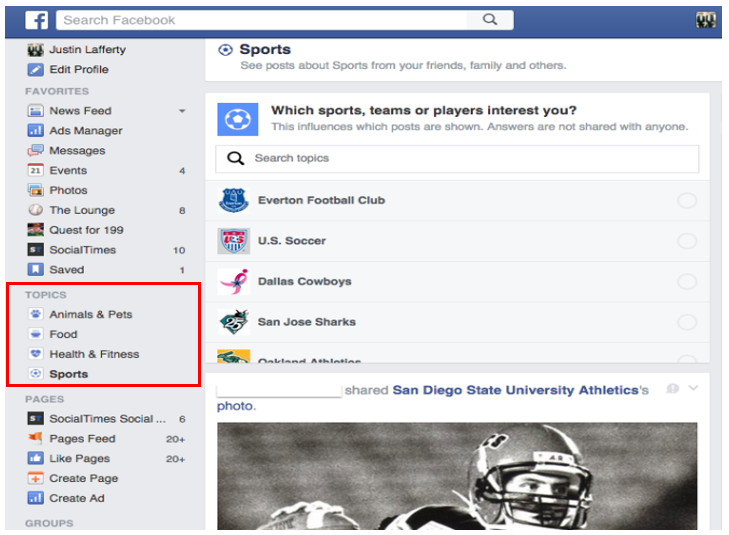 Because this feature is still a test, the platform also gave users the ability to "flag" posts that they deemed irrelevant to the chosen topic (a smart move on Facebooks part considering users often feel they do not have much say in what appears in their feeds).
The feature has not been completely rolled out and is only open to random users for now, but it is definitely a step in a new direction for the social giant. Facebook is still the dominant social network, but other platforms are starting to creep up on them.
People predominantly use Facebook to stay tuned-in to what their friends and families are doing on a daily basis, but they are often overwhelmed by the unnecessary information that other people are posting. From a strategic standpoint, it seems this is a positive move on Facebooks part. Users will feel like they have more of a hand in what they see in their feeds instead of feeling lost in a sea of information and emotion. But for those users who prefer to stay up to date on who is newly engaged, who recently broke up, and who is having babies, they can choose to stick with the normal news feed.
For more information on the Facebook Topic-Based Feed check out this article on MarketingLand.
Facebook introduces new "Slideshow" ad unit for emerging markets
What is it?
Slideshow is a new video substitute. Advertisers are able to create video ads from still images. Upload 3 to 7 still images and choose the length of the slideshow which ranges from 5-15 seconds. You are able to use video like motion with no sound to provide a new way to tell brand stories.
Why was it created?
It was designed to play in markets where mobile connections are slow or unreliable. Due to the smaller file size, it allows eye catching ads to people with poor connection.
How does it work?
Advertisers create two campaigns, one being a traditional video and the other a slideshow. Facebook detects the user's connection speed and then shows the appropriate ad. This feature is at no additional cost.
Useful to You?
Although a very cool feature it may not be completely relevant to our Facebook ad campaigns in North America, since we generally have good connection to service. Facebook released that more than half of its revenue comes from non-North American markets, where the dominant form of internet access is mobile but on a slow connection. So this could be something interesting to test for clients that we are running Facebook campaigns internationally.
On a bigger scale, Coca-Cola ran these types of campaigns in markets such as Kenya and Nigeria and had great results.  You can find out more information on this case study on FaceBook and VentureBeat.
Twitter rolls out Native Polling feature
Nowadays, everyone has an opinion on everything and Twitter just made it that much easier to voice yours.  Regular users of the network are all too aware of the "Retweet for Yes, Favorite for No" Tweets that float around within their feeds. From big Brands to individuals, users understand that these Tweets are a fun way to get followers to engage and interact with a Tweet.
As of last week, Twitter started rolling out a new feature that allows users to quickly share their opinions on social media – Native Polling.  Let's be honest, it's pretty cool and don't even deny that you can't wait to start using it. Though the feature has been in test mode over the past month, it will now be available to all users.
In the past, these polls were only available to advertisers using custom Twitter Cards who were asking questions and tracking responses. The new poll feature is a simple "query" with two possible answers with results being displayed in real-time. Each poll is active for 24-hours and users can also see how much time is left to "vote." Once the 24-hour limit has been reached, the results are displayed as a percentage. Not only that, but Twitter sends a notification to all poll participants, prompting them to "check out" the final results.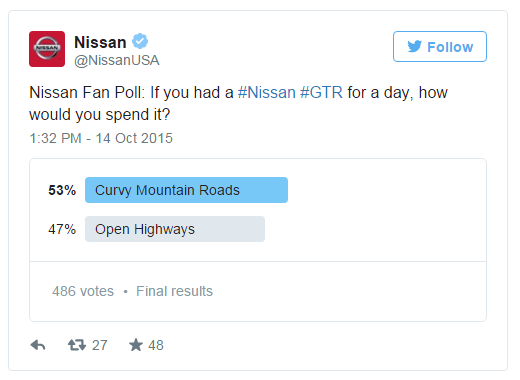 The new feature will be rolling out over the next few days on iOS, Android, and Twitter.com.
In our opinion, this is one of the most useful Twitter features we've seen in a while. Not only is it fun for the average person, but this is huge for Brands seeking to engage their followers and attract more. Though there is no information yet on whether this will be available within the ads platform, it's probably safe to assume that that won't be far behind.
Social Media is an ever-growing, ever-changing way to be noticed by the public. That is even more true when it comes to advertisers. There is no better way to reach a target audience than to market them with products and services in places and outlets that are relevant to their daily lives. Users are on social media because they are looking for better ways to fulfill their lives and they look to other users to influence their choices (whether consciences of it or not). In a society that has grown up and into the social media world, it is essential for advertisers to take advantage of an audience that is, for lack of a better word, begging to be marketed to.
You can find out more information on this new Twitter feature at MarketingLand.