It's 6 a.m. on Monday morning and I have one thing on my mind: coffee. So I grab my cell phone and search the query "coffee." Google doesn't necessarily know my intent is behind the query, but it will make an assumption about what I'm trying to find.
Google Hummingbird and Semantic Search
Google's algorithm is programmed to not only know what you are searching for, but why you are searching for it. In August 2013, Google launched an algorithm update called Hummingbird, which changed the future of SEO. Hummingbird focused on semantic search. It sought to improve search accuracy by understanding the searcher's intent.
We've come a long way since Hummingbird. Google has the ability to uncover a searcher's intent through a number of factors such as:
Trending topics
Geographical location
The query itself
The user's search history
And many other factors
You also may recall the Google Pigeon update, which first launched in July 2014 and strived to provide more accurate local search results. Google stated that the goal of Pigeon was to create closer ties between the local algorithm and the core algorithm. Ever since the rollout of Pigeon, location-based searches have become an essential component of SEO efforts.
Local Search and User Intent
When I ran my coffee search on my mobile phone, the top results were all local search results, as you can see in the screenshot. (I also ran this test logged out and came up with the same results). Google assumed I was looking for the closest place to my home to get coffee, and it was right.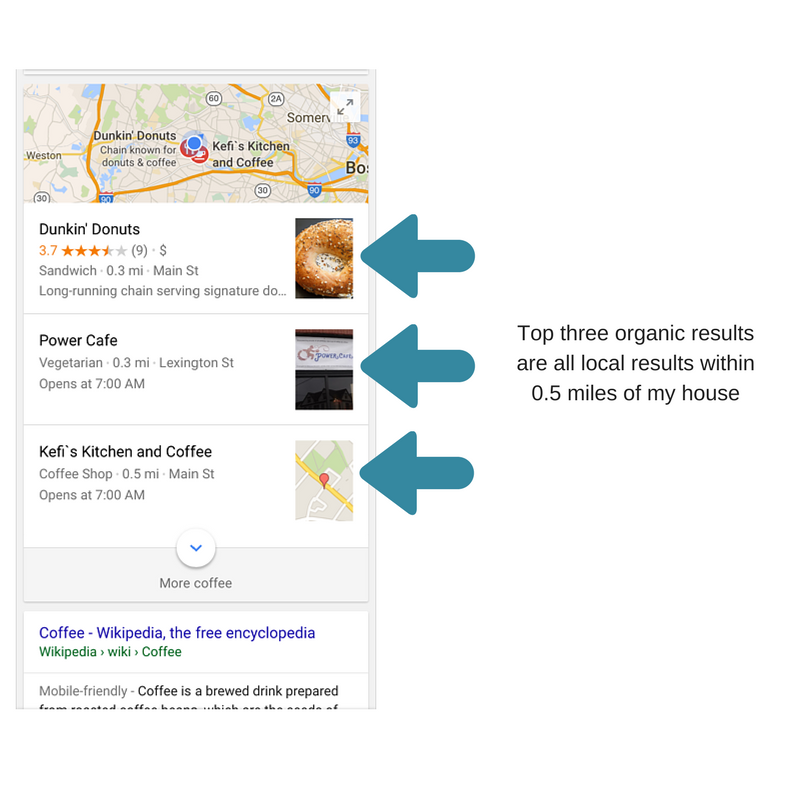 If we look a bit deeper at the search results, we see that Google has me covered in other ways. As I scroll down the page, other results include: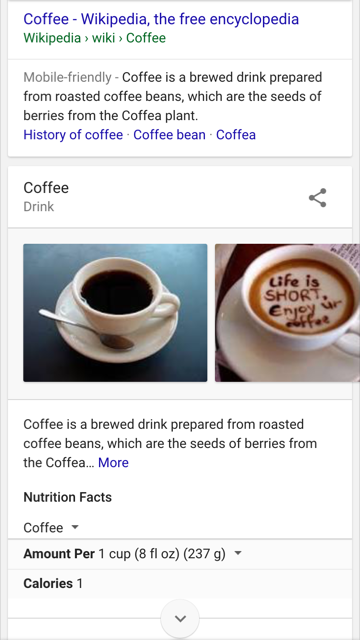 Wikipedia: It's the top traditional (non-local) organic result for coffee. So if I actually wanted to know where coffee comes from or its history, I have the top web resource for information.
Knowledge graph: Google is also showing me the knowledge cards for coffee, just in case I wanted to know how many calories are in a cup.
Positions 2 through 5 are traditional (non-local) results, but when you look more closely, you notice they actually are local results:
Yelp: Yelp is ranking in positions 2 and 3 for "best coffee and tea in Watertown" and "best coffee shop in Watertown."
Local vendor site: Kefi's Kitchen and Coffee, a local shop in Watertown, holds the no. 4 and 5 spots, for its Yelp page and website. This speaks to the power of local search, and specifically user intent via location. Based on my location and device, Google has determined these results as the most suited to what my intent is with the search for "coffee."
The bottom line: Information about coffee couldn't be more accessible to me. So I can get my answer even faster, without having to click into a website. This goes back to Google's mission to provide users with the most accurate information possible in the quickest manner.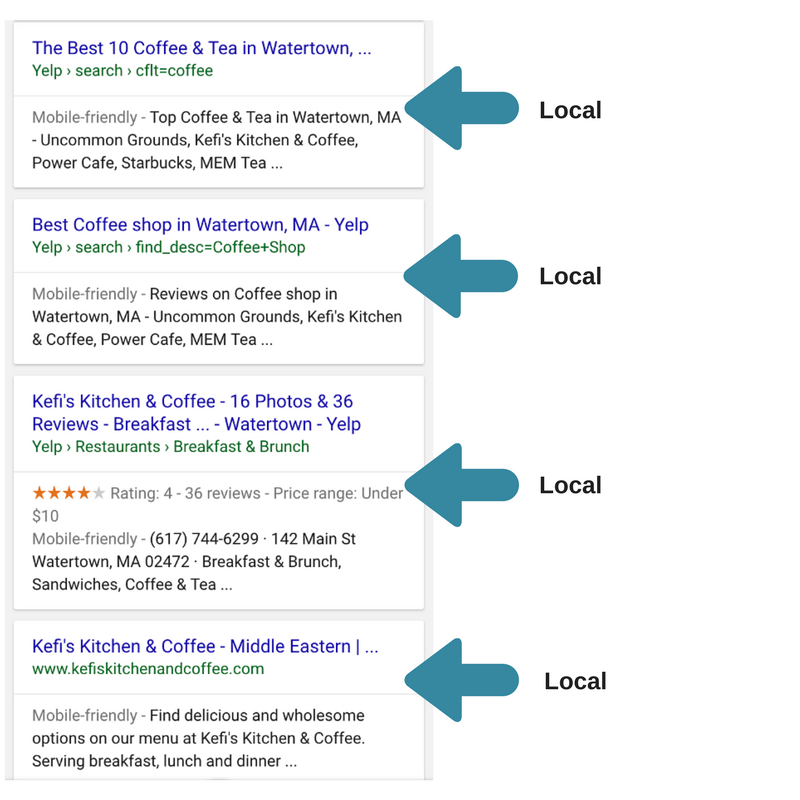 How Location-Based Search Changes With You
What would my search results look like if I were in a completely different location? There are several ways to manipulate your search results for a specific location, but I'll give you the two easiest ways:
I Search From: A site that gives you the Google results of the city and state you provide and allows you to select the device you're using.
AdWords Ad Preview and Diagnosis: Another tool that can help you preview search results in a different location or on a different device is the Google tool.
The Future of Location-Based Search
The search landscape is continuing to evolve. Local search is becoming more and more relevant in the search landscape. Search engines know who you are, where you are and what device you are using. You will be served results accordingly.
Here are some takeaways:
Optimize for local search results: It's clear local businesses that rank well organically on broader terms like "coffee" are doing so because of Google's emphasis on serving up localized results. In most cases, the name of the city is featured in the title tag, which is a key indicator to Google of where the business is located.
Don't Worry Too Much About Rankings: Remember that search results will be different depending on what location you are in, so don't put too much emphasis on where you are ranking. Instead, just be sure you are getting in front of the right people.
Want more information? Get more details on Charles River Interactive's SEO and PPC service offerings or contact us today.